Blink Charging Looks Well-Positioned for Long-Term Growth
Rapid growth in electric vehicles
Blink Charging owns, operates, and provides Electric Vehicle (EV) charging equipment and networked EV charging services in the U.S. and international markets. It offers both residential and commercial EV charging equipment and services.
The demand for EVs continues to rise across the world, driven by governments' initiatives to reduce emissions. According to a report by the International Energy Agency, just 120,000 electric cars were sold worldwide in the year 2012. This number is less than the average number of electric cars sold every week in 2021. Clearly, the use of EVs is growing rapidly. The number of EVs on road at the end of 2021 was nearly triple that at the end of 2018. A study by McKinsey published in April, 2022 predicts that the U.S. will have 48 million EVs on road by 2030.
With the growth in EV numbers, one can expect growing need of EV charging stations and infrastructure in future. This bodes well for EV charging companies like Blink Charging.
Phenomenal revenue growth
Blink Charging (BLNK) has seen strong growth in its revenue over the past 3 years. Total revenue has increased from $2.7 million in 2019 to $20.9 million in 2021, showing a CAGR growth of 175%. Blink's main revenue contributor is product sales. Product sales for 2021 stood at $15.4 million as against $0.8 million in 2019, showing a CAGR growth of 325%. Cost of product sales for 2021 stood at $11.67 million as against $0.96 million in 2019, showing a CAGR growth of 248%. Thus, the revenue from product sold has grown more than cost of product sales. This perhaps indicates that the company can exhibit economies of scale going forward.
Additionally, the management believes that the recent addition of SemaConnect will help it reduce the costs by 30%. Loss from operations for 2021 widened to reach $55.6 million in 2021 as against $10.4 million in 2019.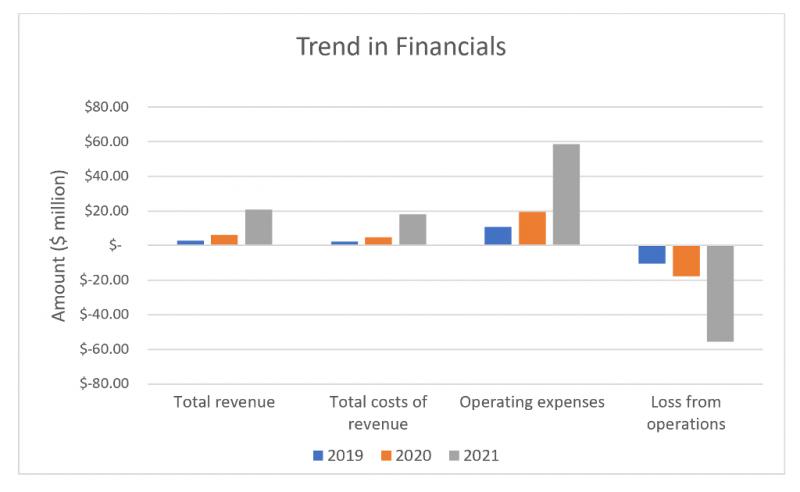 Blink Charging's phenomenal growth continued in the latest quarter, when the company's revenue grew 164% year over year.
Why loss-making EV sector is a potential long-term winner?
Most companies in the EV space are incurring operating losses currently. Yet, they have the potential to become profit machines as EV adoption grows. This is because EV charging industry is still in its nascent stage.
Needless to say, a well-functioning EV charging infrastructure is a pre-requisite for rapid EV adoption. EV charging companies are innovating constantly to provide just that, profitably. The companies are adopting different models (owning the stations vs. just operating them), entering partnerships with property owners, OEMs, and so on.
At the same time, several smaller players are constantly innovating to make EV charging accessible while trying to make the business model profitable. As an example, PowerHero has developed an innovative adapter called Cameo that makes any home charger a networked one. PowerHero holds four patents for this product, and five more are pending. The company believes that making over a million home chargers in the U.S. available for public use can effectively transform the EV charging industry. Importantly, the Cameo makes the chargers reservable, so you always know if the charger is available and not be surprised to find it's being used or not working. Seen as the Airbnb (ABNB) of the EV charging space, this idea has the potential to speed up EV adoption drastically.
Overall, the EV charging space is rapidly evolving. Companies like Blink Charging will likely get an early mover advantage over others in the long run.
Recent acquisitions will accelerate Blink's growth potential
SemaConnect acquisition brings the total number of Blink's chargers up to 48,000 chargers. This acquisition will significantly expand Blink's footprint. Moreover, it provides the company with a vertically integrated manufacturing capability in the U.S. SemaConnect has a large portfolio of technology and intellectual property. This includes level 3 DC fast chargers, which will help Blink grow in the fast-charging DC space. A PwC report states that time-starved consumers will likely pay a premium for speed. Thus, having a fast-charging option is beneficial for company in the long run.
Additionally, Blink's chargers were not manufactured in the U.S. With the acquisition of SemaConnect, Blink also got hold of its manufacturing facility in Maryland. This now makes Blink Charging complaint with the Buy American mandate, which allows it to tap into the $7.5 billion committed by the government for EV infrastructure.
In April 2022, the company acquired EB Charging in the UK. This gave Blink an access to the UK and Ireland markets. It added nearly 1,200 chargers to the Blink's global footprint. In May 2021, the company acquired Blue Corner in Continental Europe. Management further stated in the latest earnings call that EB Charging has a unique business model for the owner operated business. In the U.K, the company is able to get 80% of the CapEx covered by government entities. The U.K. government has an ambition to increase the number of chargers 10-fold to 300,000 by the end of this decade. Additionally, the government has committed GBP 1.6 billion to develop EV infrastructure. Thus, the company is well poised to grow with minimum CapEx burden in the U.K.
Competition
The EV charging market is highly competitive. Blink's competitors include ChargePoint (CHPT) and EVgo (EVGO). ChargePoint manufactures EV charging equipment and operates charging network. EVgo is primarily focused on fast charging.
A key operational strength of Blink Charging is its long-term contracts - often exclusive - with property owners. But Blink's most crucial differentiator is that it owns a large percentage of its charging stations. Such an ownership gives Blink Charging greater control over the settings and pricing for its EV charging services.
A solid long-term buy
The electric vehicles market is still in its early stage of growth. With the growing number of EVs, the world will need more charging points and companies like Blink Charging should enjoy an early mover benefit. Additionally, Blink is focused on growing fast, including through acquisitions. With SemaConnect acquisition, Blink Charging has not only significantly expanded its footprint, but also made itself eligible for the government grant money that requires manufacturing in the U.S. In all, Blink Charging looks well-placed to grow in the long-term.